Expert Ford Auto Service Available at Wally's Ford Of East Greenbush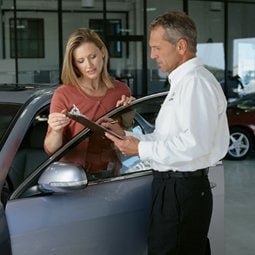 The only way to maximize the longevity of your Ford F-150, Bronco Sport, Escape, Explorer or Ranger is with routine service from an experienced service team. At Wally's Ford Of East Greenbush, we offer a state-of-the-art facility, advanced equipment, and a team of highly skilled Ford technicians. All these factors add up for efficient, high-quality service that gives your Ford model the precision it needs and while reducing wait times. Bring your car, truck or SUV to our service center to experience a new level of convenience and quality.
Trust Wally's Ford Of East Greenbush for Routine Maintenance & Larger Repairs Alike
Every car needs a basic level of routine maintenance performed, per the vehicle's owner's manual. This typically involves things like oil changes, filter replacements, tire rotations, and more. We can take care of those routine services so you can focus more on enjoying your vehicle and less on tinkering under the hood. And if your car requires a larger fix, we can tackle that too. After all, who better to trust than the ones already taking care of your car?
Take Advantage of Professional Ford Service in East Greenbush
The best part about using our dealership service center is we make it easy to get your vehicle the service it needs. Our topnotch customer service standards mean we'll fix your vehicle correctly, do it quickly, and that we strive to make it better on your busy schedule. Use our online service scheduling form to pick the day and time that works for you to bring your vehicle in, and we'll do our best to accommodate that and get you in when it's convenient to your life. Reach out online or stop by and let's get your vehicle into the Wally's Ford Of East Greenbush service center for maintenance soon.